"What do you even do here in the winter?" This is one of the most commonly asked questions to a local on Block Island during the summertime. Truth be told, there is plenty to do on Block Island in the wintertime. The changing of seasons holds a special energy to slow down and enjoy your favorite activities on Block Island. Everything is calm, cool (some would say cold!), and collected. Whether you are taking a brisk sunrise beach walk, going clamming or scalloping to prepare for the evening's meal, or exploring the trails...you will certainly feel the nature around you that truly encapsulates just how remarkable Block Island in the winter can be. Remember to stay safe during deer hunting season on the trails by wearing orange while walking on the trails. There are free vests to borrow located at certain trail heads in an orange mailbox, or from the police station. 
Although it's quiet in town compared to the common summer scene, there are shops, restaurants, and hotels that are still open. The Holiday Stroll is a Block Island tradition happening again this year! From Friday, November 24th through Sunday, November 26th, enjoy a weekend on Block Island, in tune with a more relaxed-pace instead of the hustle and bustle of Black Friday on the mainland. The Shopping Stroll kicks off the holiday season with the town adorned in festive decorations including the now-famous Lobster Pot Tree, and local shops offering incredible sales beginning on Friday morning! For more information on the holiday stroll please visit https://www.blockislandinfo.com/event/annual-holiday-stroll/4/.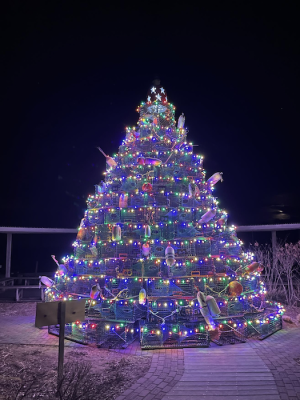 Photo by Instagram User: @blockislandinfo
If you are looking to do more than stroll, join the 17th Annual 5K Turkey Trot on Saturday, November 25th and have some fun! This 5 kilometer run (or walk!) meanders along the rolling blacktop of Corn Neck Road, adjacent to Crescent Beach. The race begins at 1:30 pm on Saturday at the Town Beach Pavilion, perfect timing to work off those Turkey Dinner leftovers. You can sign up for this event at The Town Beach pavilion the day of the race, or online right here https://register.chronotrack.com/r/74600. 
Whether you're embracing a slower pace in nature, exploring the town, or wherever you find yourself, Block Island continues to remain an exceptionally desirable place to be, no matter what the season may be. 
As always, for more information on all things Block Island, please visit https://www.blockislandinfo.com/!
Cover photo by Instagram User: Ross Draper, @biearthworks